COVID SHUTTLE Cleaning & DISINFECTING
SAFETY is our #1 priority as cleanliness is of utmost importance. Cheap Cabo Shuttle has implemented new processes for vehicle disinfecting before every new transfer. Mexico's Health Department helped develop a cleaning and disinfecting protocol for all airport shuttles in Los Cabos. We've also outlined a strict protocol for all staff with checks in place. These new procedures will help to ensure we create a memorable visit to Cabo San Lucas.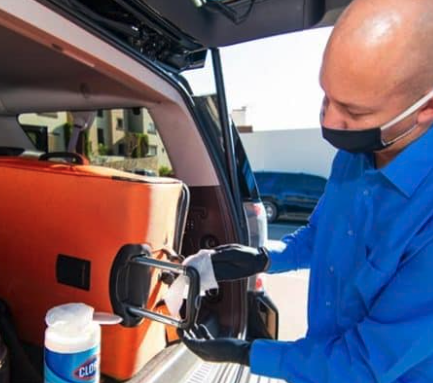 Our greetings will still be warm. The personal treatment you receive will remain the same with your safety at the top of our minds.
What is our vehicle disinfecting process? Our commitment to using enhanced vehicle cleaning measures with health department-approved cleansers before delivering you in a vehicle is most important.
Being that our vehicles are manufactured of different materials and surfaces, we realize that each requires different procedures to remove all pathogens.
Coronavirus Disinfecting Process
Each vehicle receives a closed-door fogging before each transfer with 70% or higher isopropyl alcohol mix, ensuring all surfaces are properly disinfected
After the fogging, we wipe down all hard surfaces in each shuttle with a similar 70% or higher isopropyl alcohol mix
Touch-points (common for guests) are wiped with 70% or higher isopropyl alcohol mix, including door handles, grab handles, full doors, and window controls, armrests, console, seat adjusters, cup holders, each full seat, and rear decking
Soft interior surfaces are wiped with an antibacterial mixture, then dried with an unused cloth
Luggage surfaces are wiped
New face masks, face shields, and gloves are worn with every new shuttle service
Safety Takes A Team Effort
Our staff's willingness to participate in new safety procedures for vehicle disinfecting is 100%. Our commitment will be shown and realized during your shuttle service in Los Cabos. You have options, and we want your airport shuttle business. We promise our staff will make a large effort making you comfortable and safe in our shuttles.
We welcome your feedback or questions. Please contact Cheap Cabo Shuttle online or call us directly.